BiCO Jigs [bee-ko] are 3/8 oz lead-free bass jigs that feature an original stand-up design. Every jig comes equipped with an OWNER hook, more specifically a deep-throat wide gap model, which features a pronounced claw-shaped configuration.
The unique hook design allows for a stiffer, more elongated weedguard without compromising hooksets. The sharp-angle bend also keeps trailers from sliding down the hook's shank. Trailers stay in place naturally, and last longer with minimal tearing, no keeper required.
The BiCO features a flattened head, which offers particular benefits. For one, the contour allows jig-and-trailer presentations to stand upright when in contact with the bottom. When at rest, the tail-end of the trailer will point upward, giving the profile of the bait a lifelike presentation.
In addition, the flathead design makes them skip further than conventional jigs. The heads are made with a light-weight metal in order to increase size without adding extra weight. This gives the flat bottom of the head a wider surface area, allowing the BiCO to skip exceptionally well. Their lead-free composition also makes them environmentally safe.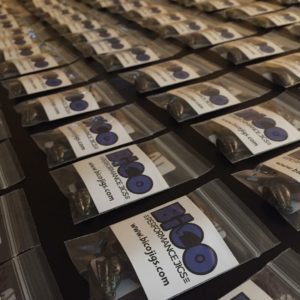 Being built for versatility, the BiCO performs extremely well as a swim jig. The head tapers in toward the eyelet, which allows it to slip easily through aquatic vegetation. That, in conjunction with the stiff fiber weedguard makes the BiCO remarkably weedless.
As always, the jigs are made in the USA, personally assembled by creator Bill Quattrucci Jr. to ensure the same level of quality he requires for himself.