BiCO Jigs [bee-ko] are lead-free bass jigs made in the USA and feature 100% original stand-up designs. The Original BiCO Jig was designed and perfected more than twenty years ago by Bill Quattrucci Jr.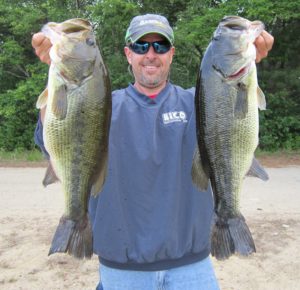 Bill was tired of fishing poorly made jigs with cheap hooks, and so he set out to design his own jig. He developed a highly versatile 3/8 oz bass jig that's engineered to last, owing to its durability and exceptional weedless properties.
BiCO Jigs are made with OWNER hooks, more specifically, a model with a sharp-angled bend that holds trailers in place naturally, no keeper required. They also come equipped with a stiff fiber weedguard that will get the jig through just about anything.
Until recently, BiCO Jigs were only available in Bill's tackle shop in Massachusetts, where the bait generated a huge following from anglers looking for a better quality jig. They're now available online for all anglers in search of a better jig bite.
To this day, each and every jig is personally assembled by Bill, to ensure the same level of quality he requires for himself.

---
The Original BiCO Jig in action…
---
Introducing…