The Original BiCO Jig was designed and perfected more than twenty years ago. It's the original jig Bill designed and now the flagship jig of the BiCO Performance Jigs brand. That's why it was named "The Original".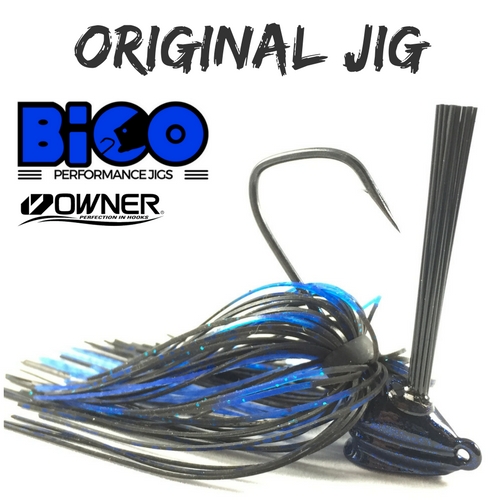 It's a versatile 3/8 oz lead-free bass jig that's engineered to last, owing to its durability and exceptional weedless properties. This jig features an original stand-up design, ideal for targeting bass in shallow cover, skipping under docks and trees, or fished as a swim jig. The Original BiCO comes equipped with premium OWNER hooks for strength, durability, and secure hooksets. Specifically, it is outfitted with a deep-throat wide gap model, which features a pronounced claw-shaped configuration.
The unique hook design is aligned with the eyelet of the jighead to allow for a stiffer, more elongated weedguard without compromising hooksets. The sharp-angle bend also keeps trailers from sliding down the hook's shank. Plastics will stay in place naturally, and last longer with minimal tearing, no keeper required.
The jig features a flattened head, which offers particular benefits. For one, the contour makes it skip on the surface better than conventional jigs. The heads are made lead-free in order to increase size without adding extra weight. This gives the flat side of the jig a wider surface area, which allows it to skip exceptionally well. The jigs lead-free composition also makes it environmentally safe.
In addition, its flathead design allows jig-and-trailer presentations to stand upright when in contact with the bottom. When at rest, the tail-end of the trailer will point upward, giving the profile an appealing, lifelike presentation. Check out the underwater video at the bottom of this page to see it in action.
Being built for versatility, it performs equally as well as a swim jig. It features a tapered jig head design, which allows the lure to slip quietly through all types of aquatic vegetation. That, in conjunction with the stiff fiber weedguard, makes the Original remarkably weedless.
It comes in twelve different color combinations to cover the spectrum of fishing conditions. The heads are painted with a very durable, high-gloss finish that will not peel off in chunks like most jigs. They are paired with tough, highly detailed silicone skirts that are secured with a thick rubber band.
As always, the jigs are made in the USA, personally assembled by Bill to ensure the same level of quality he requires for himself.


Or if you're looking to target bass in deeper water then check out the Baccarac Jig