I've been throwing jigs for over 25 years, and I can't emphasize enough how important it is to use the right equipment for jig fishing. I often get asked what I recommend for tackle so I added this page to help anglers getting started. Hope it helps. -Bill Q
Rod:
7+ Foot | Heavy Power | Fast Action
I recommend fishing my jigs with at least a seven foot casting rod. This length allows you to pick up more line faster when raising the rod tip. My jigs can get into some thick cover without getting hung up, so you're going to need a rod with some backbone for pulling bass out of there.
A rod with heavy power and fast to extra-fast action will give you the pulling power and sensitivity required for detecting and landing bass in all types of cover. I use and highly recommend the Elite Black Series rod in the photo below. This is the best jig rod I have ever fished, especially for the price.
I have fished high end $400 G-Loomis and Kistler rods over the years and I can honestly say I like this one better. I loved this rod the second I picked it up and was able to make a deal with the owner of Elite to make them available in our store.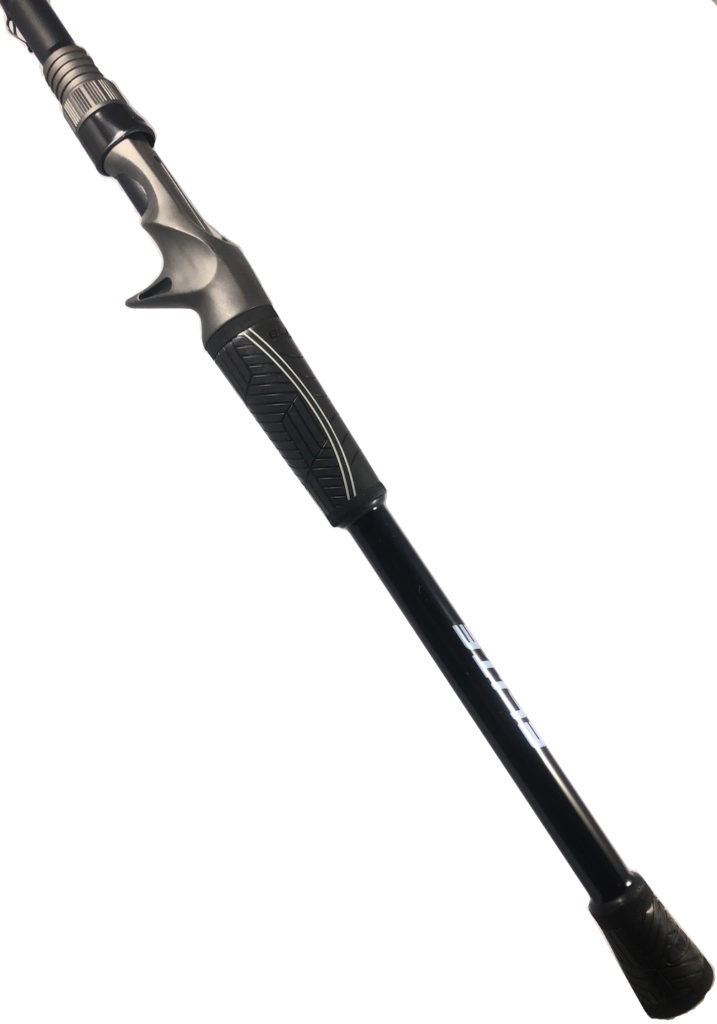 Reel:
Baitcaster | Low Profile| 6:1 +
Although you can fish some of my jigs with a spinning reel, a baitcasting reel is strongly recommended. I suggest a low profile baitcaster with a fast retrieve, preferably with a 6:1 or faster gear ratio.
The fast retrieve allows you to pick up slack line quickly so that you're better prepared to detect a bite and set the hook. It's also better for flipping and pitching tactics since you can quickly retrieve the jig between targets. The reel in the picture below is the new Shimano Curado K Series, which I own a couple of and really like.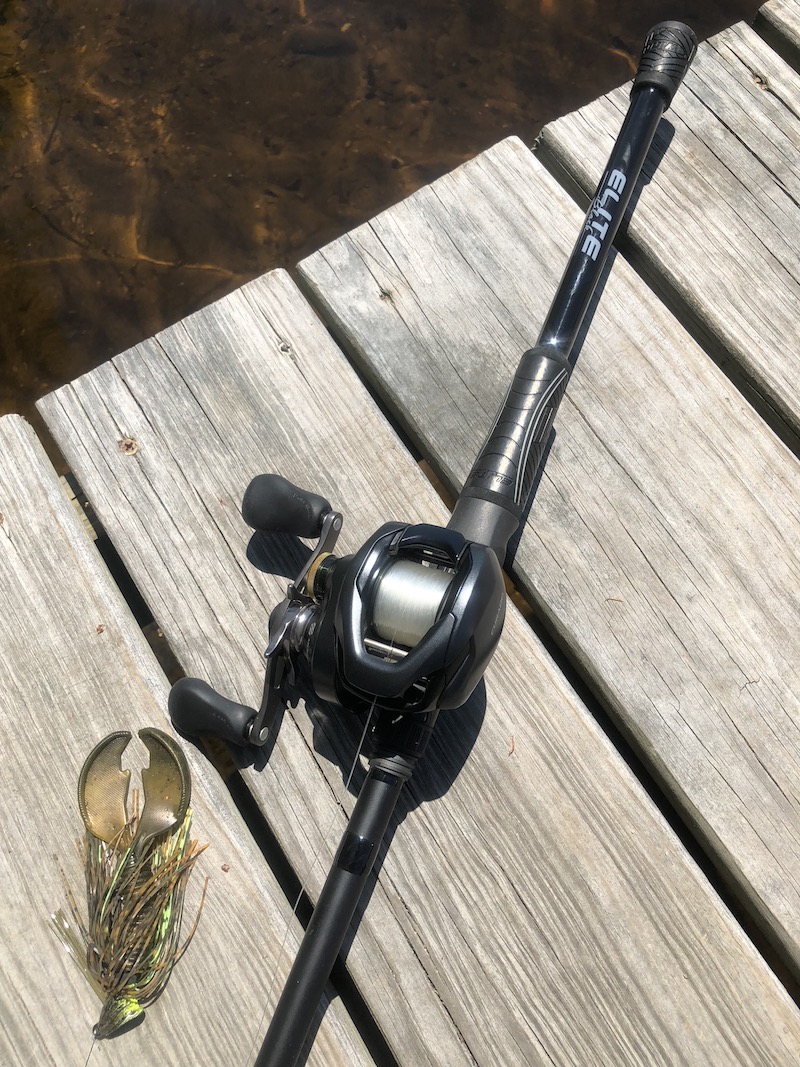 Line:
20 lb Fluorocarbon | 40-65 lb Braid 
I use twenty pound test fluorocarbon because it's clear, it sinks, and stays taut under the water, but he also suggests 40 – 65 pound braid. Flouro is better for clearer water, but braid is better for horsing fish out of thick cover. You should base your decision on what specific conditions you fish, but both will do the job. Monofilament will suffice, but is not recommended because it has too much stretch and it floats. Regardless of line type, I always tie my jigs with a palomar knot.
Trailers:
Ugly Otter & Chigger Craw
Whenever someone asks me what my favorite jig trailer is I usually say the Ugly Otter made by Gambler. It's on the bigger size for jig trailers but the trailer can almost never be too big for my liking. If someone is looking for something smaller I will recommend another favorite of mine, a Chigger Craw made by Berkley.
Colors:
Black
When it comes to jig fishing in general, my favorite color is black. From there I like to add different colors to the profile of the jig with the trailer. Black certainly isn't the only color I throw, but if I had to choose only one color to throw all year it would be black.